Manisha Bhardwaj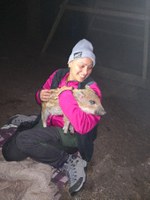 Dr
Postdoc Researcher

Phone: +49 (0)761 203 3799
Fax: +49 (0)761 203 3661
Mail: manisha.bhardwaj[at]wildlife.uni-freiburg.de


Tennenbacher Straße 4
79106 Freiburg, Germany
I am a wildlife ecologist, motivated to identify and mitigate the impacts of the built environment on wildlife. In my current role, I am investigating and developing solutions to human-wildlife conflicts such as crop-damage and wildlife-vehicle collisions. I completed my PhD at the University of Melbourne, in Australia, where I evaluated the impacts of roads on insectivorous bats.
Past experience
2018 – 2021 ​Postdoctoral Researcher, "Evaluating and mitigating ungulate-human conflicts" Swedish University of Agricultural Sciences, Sweden
2014 – 2018 Doctor of Philosophy, "Evaluating the Impacts of Roads on Insectivorous Bats" The University of Melbourne, Australia
2009 – 2013 Bachelor of Science Honours, "How does aggression in Western Bluebirds vary with Human Disturbance?" Queen's University, Canada.
Research
Wildlife Safe Roads: Developing a management strategy to reduce the rate of collisions between wildlife and traffic on Swedish roads in collaboration with the Swedish Transport Administration
Wildlife Safe Railways: A collaborative project between Sweden and Norway to evaluate the effectiveness of using acoustic and visual signals to reduce ungulate-vehicle collisions at railways.
South African Railway Ecology Programme Evaluating and mitigating the impact of railways on African fauna in collaboration with the Endangered Wildlife Trust, Transfrontier Africa, University of Venda, Witwatersrand University and the South African National Parks and Nature Reserves.
Developing Adaptive Management Tools to Reduce Crop Damage by Wild Boar: Developing novel strategies, using fear, exclusion fencing and diversionary feeding, to reduce crop damage by wild boar in collaboration with the Swedish Environmental Protection Agency
Publications
Bhardwaj M, Erixon F, Holmberg I, Seiler A, Håkansson E, Elfström E, Olsson M. (2022). Ungulate use of an At-grade Fauna Passage and Roadside Animal Detection System: A pilot study from southern Sweden. Frontiers in Environmental Science. doi: 10.3389/fenvs.2022.991551
Bhardwaj M, Lodnert D, Olsson M, Winsvold A, Eilertsen S. M, Kjellander P, Seiler A. (2022). Inducing Fear using Acoustic Stimuli – A Behavioural Experiment on Moose (Alces alces) in Sweden. Ecology and Evolution. doi: 10.1002/ece3.9492
Schwegmann S, Binder N, von Hoermann C, Bhardwaj M, and Storch I. (2022) Evisceration residues from hunted roe deer as a resource for necrophagous insect fauna in the Black Forest, Germany: a preliminary study. Wildlife Biology, e01055. doi: 10.1002/wlb3.01055
Bhardwaj M, Olsson M, Håkansson E, Söderström P, Seiler A. (2022). Ungulates and Trains – Factors Influencing Flight Responses and Detectability. Journal of Environmental Management, 313, 114992. doi: 10.1016/j.jenvman.2022.114992
Santos, S., Grilo, C., Shilling, F., Bhardwaj, M., & Papp, C. R. (2022). Ecological Solutions for Linear Infrastructure Networks: The key to green infrastructure development. Nature Conservation, 47. Doi: 10.3897/natureconservation.47.81795
Bhardwaj, M., Soanes, K., Lahoz-Monfort, J. J., Lumsden, L. F., & van der Ree, R. (2021) Insectivorous bats are less active near freeways. PLOS ONE 16(3): e0247400. doi: 10.1371/journal.pone.0247400
Plaschke, M., Bhardwaj, M., König, H.J., Dobias, C., Wenz, E., Ford, A.T. (2021). Green bridges in a re-colonizing landscape: Wolves (Canis lupus) in Brandenburg, Germany. Conservation Science and Practice. 3(3): e364. doi: 10.1111/csp2.364
Bhardwaj, M., Seiler, A., Olsson, M. (2020). Ungulate use of non-wildlife underpasses. Journal of Environmental Management, 273, 111095. doi: 10.1016/j.jenvman.2020.111095
Seiler, A., Bhardwaj, M. (2020). Wildlife and traffic: An inevitable but not unsolvable problem? In: F. M. Angelici & L. Rossi (eds) Problematic Wildlife II: New Conservation and Management Challenges in the Human-Wildlife Interactions. Cham: Springer International Publishing. p. 171-190. doi:10.1007/978-3-030-42335-3_6
Bhardwaj, M., Soanes, K., Lahoz-Monfort, J. J., Lumsden, L. F., & van der Ree, R. (2020). Artificial lighting reduces the effectiveness of wildlife-crossing structures for insectivorous bats. Journal of Environmental Management, 262, 110313. doi: 10.1016/j.jenvman.2020.110313
Bhardwaj, M., Soanes, K., Lahoz‐Monfort, J. J., Lumsden, L. F., & van der Ree, R. (2019). Little evidence of a road‐effect zone for nocturnal, flying insects. Ecology and Evolution, 9(1), 65-72. doi: 10.1002/ece3.4609 Among the top 10% most downloaded papers in Ecology and Evolution in 2018-2019
Soanes, K., Sievers, M., Chee, Y. E., Williams, N. S., Bhardwaj, M., Marshall, A. J., & Parris, K. M. (2019). Correcting common misconceptions to inspire conservation action in urban environments. Conservation Biology, 33(2), 300-306. doi: 10.1111/cobi.13193 Among the top 10% most downloaded papers in Conservation Biology in 2018-2019
Bhardwaj, M., Soanes, K., Straka, T. M., Lahoz-Monfort, J. J., Lumsden, L. F., & van der Ree, R. (2017). Differential use of highway underpasses by bats. Biological Conservation, 212, 22-28. doi: 10.1016/j.biocon.2017.05.022
Bhardwaj M, Dale CA, Ratcliffe LM. (2015). Aggressive behavior by Western Bluebirds (Sialia mexicana) varies with anthropogenic disturbance to breeding habitats. Wilson Journal of Ornithology, 127, 421-431. doi: 10.1676/14-087.1